How to Turn Sales Leads Into New Clients in 5 Steps
Over $11,000 is spent by the average US household on home improvement and maintenance each year. With the Census Bureau's record of over 122,000,000 households in the country, that's $1.3 trillion a year.
How can you make sure your business gets a piece of that pie?
It's not just about marketing. All the advertising in the world doesn't guarantee a sale.
To turn sales leads into new clients, you need to get to know them, educate them, and build a relationship. Starting with valid leads also streamlines the process – more on that at the end.
What does the sales conversion process look like in practice? Follow these five steps to convert new clients:
1. Research The Lead
The first step to take when trying to turn a sales lead into a new client is to assess what the lead is interested in. Also, consider what reservations they may have about working with you. Only then can you tailor your approach to appeal to them.
Regardless of which type of home improvement company you are, your clients' needs will vary. Each client will have a different:
Budget
Level of urgency
Level of priority
For example, someone with a leaking roof will want a roofer to visit urgently. They may usually have had a lower budget for repairs. But now, they're willing to pay more.
On the other hand, someone with a large budget may not be open to any landscaping work during a snowy winter. It's not urgent, a priority, or an investment they feel they'll benefit from straight away.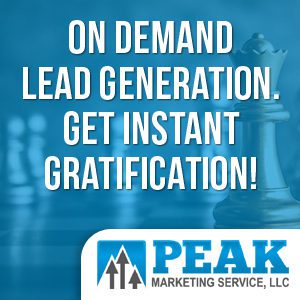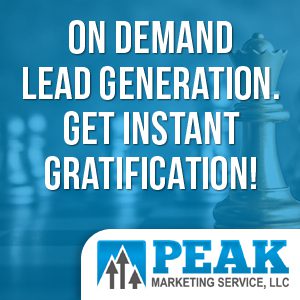 When these factors have been considered together, you can develop buyer personas. Buyer personas categorize the type of clients you reach out to and inform your sales approach.
Once you've established all of the buyer personas your leads fall under, you need to research how to appeal to them. Think about their age, finances, and lifestyle.
Going the extra mile will always grab people's attention, but which way will appeal to them the most? Is a discount or personal interest more likely to move them along the buyer pipeline? What will make you stand out to them ahead of your competitors?
When these factors are combined into effective marketing techniques, your leads will be ready to hear more about your services.
2. Educate Your Lead/Prospect
After you have assessed what the lead is interested in, the second step is to provide them with more information about your product or service. Look back at the buyer personas you established amongst your leads. What methods will reach them?
Generally, it is best not to start pushing information onto the lead. But it needs to be readily accessible.
Your company website is likely a lead's first port of call for learning more about you. How informative is your website? Other than an "about us" and "our services" page, do you have engaging content that potential clients can look through at their own pace?
Videos
For example, having informative videos or blog articles on your website can educate sales leads.
Videos could cover your services while showing a bit of personality. A fun time-lapse of one of your installations from start to finish can help leads get an idea of what your services look like in practice. It also helps them imagine it in their own home.
But they're not pushy.
Don't fill this content with prices, reviews, or other heavy marketing material. Leave it with the potential new client to contact you.
Blog Posts
Blog posts follow the same principle. Don't just sell your services, using each blog as an advertisement. Use blog posts to answer valuable questions your leads might have.
For example, an HVAC company could have short blog posts covering:
What should I do if my AC is broken?
How to use your HVAC in the most cost-effective way
This content not only keeps visitors on your site for longer but makes your business seem more trustworthy. After all, you are providing them with free, helpful, reliable information.
End each blog article with a Call to Action (CTA) that links to a contact or services page. This encourages leads to move down the buyer pipeline, to the point they'd be willing to have a conversation with you.
3. Build a Rapport
Now that your lead is willing to talk, it's time to start the sales conversion. This is not a sales pitch. Closing the deal comes later.
Whether they came to you, you received a tip, or you bought the lead, it's time to engage them in a conversation.
Get to know them, their pain points, their expectations, and previous work they've done by contractors in your industry. Discern how you can best help them, and what will make your business appeal to them.
Reach Out to the Client
Then keep the conversation going.
How to do this will look different for each client. Some people prefer to meet in person or talk on the phone. That way they can build a personal relationship with you, feeling you out as a person and a business.
Others prefer the distance of written communication, such as texts or emails. They allow them to respond if and when they choose to, and give them time to think things through.
To increase your chances of success, use phone calls, texts, and emails. However, once someone has requested a meeting or consultation, stop. Keep the rapport on a personal level from then on.
4. Attempt to Close the Sale
In my opinion, if you walk the prospect through the buying journey effectively, you won't have to 'ask for the sale'. They'll be chomping at the bit and asking you how to get started. That's when you know you've done your job effectively.
Alternatively, assuming that you've researched your lead, they've learned about your business, and you've had enough contact with them that they'd like to move forward. The fourth step is to close the sale.
It starts with the consultation. You already researched their budget and expectation when you figured out their buyer persona. So you know exactly which service to offer them, and how to frame the offer.
But how do you make them accept the offer? How do you turn leads into new clients? One question can do the trick:
Are you ready to move forward?
It's that simple. Leads are unlikely to volunteer their cash unless you proactively ask for it. And if they're this far along in the pipeline that you're having a consultation, they'll likely say yes.
5. Follow Up
Of course, not everyone will say yes. Some new clients like to have consultations with several businesses before they make a decision. They may choose another offer.
But don't let all the work you've put in go to waste!
This is the follow-up, and it applies whether or not a lead became a client.
Follow Up With Converted Clients
Once your contract is complete, don't lose the lead forever. You have their contact information. Continue marketing to them at appropriate intervals.
That doesn't mean pitching bathroom installations just after you finished their new bathroom. But they may appreciate more information about other services.
Especially now you've built a rapport, they're more likely to come back to you in the future – as long as you are capitalizing on it. Follow up communication could cover:
Special offers
Other services you offer
Discounted maintenance for previous clients
This way, you keep your leads forever warm and open to offers, even if it's only a few years down the line they need to use your services again. You've made sure you've stayed in their minds.
Follow Up With Unsuccessful Pitches
A sales conversion has never truly failed.
Even though a potential client said no today, they might be open to offers in the future. They could have a bad experience with another company and choose to approach you again. Or they may be interested in another service you offer.
In this way, continue the follow-ups just as you would with new clients. Regardless of the reason for which they approach you again, keep your business on their minds.
Find New Clients Today!
This entire process is more effective if you already know the lead is valid. Don't spread your time and resources thin building rapport with hundreds or thousands of sales leads.
Instead, buy your leads from a trustworthy source.
Peak Marketing Services finds the leads so you don't have to. Our pay-per-lead system ensures you're spending your time researching, educating, and connecting with the most viable new clients. That way, you can invest your time connecting and consulting with them, safe in the knowledge they were worth investing in.
Get in touch today to see how we can help your business!