How to Find and Nurture Sales Leads for Your Landscaping Business
As a landscaping business owner, finding and nurturing sales landscaping leads is crucial for growing your business and staying competitive. In this article, we'll discuss some effective ways to find and nurture sales leads for your landscaping business.
Networking: Attend local networking events, such as the Chamber of Commerce meetings or trade shows, to meet potential clients and make connections in your industry. This can also help you stay informed about the latest trends and developments in the landscaping industry.
Online Presence: Building an online presence can help you reach a wider audience and attract more leads. Create a professional website and use social media to showcase your work and connect with potential clients. Use online advertising and search engine optimization to increase visibility and drive more traffic to your website.
Referrals: Word-of-mouth is one of the most powerful marketing tools available. Encourage satisfied customers to refer their friends and family to your business. Offer incentives, such as discounts on future services, to customers who refer new business to you.
Cold Calling: Cold calling is another effective way to find new leads. Make a list of potential clients and reach out to them by phone or email. Offer a special promotion or discount to entice them to try your services.
Nurturing Leads: Once you have a list of potential clients, it's important to nurture those leads to convert them into paying customers. Follow up with leads regularly to keep your business top-of-mind, and offer helpful tips and advice to build trust and establish yourself as an expert in your field.
In conclusion, finding and nurturing sales leads is essential for the growth of your landscaping business. Networking, building an online presence, leveraging referrals, cold calling, and nurturing leads are all effective strategies to help you find and convert potential clients into paying customers. By following these tips, you can build a strong customer base and take your landscaping business to the next level.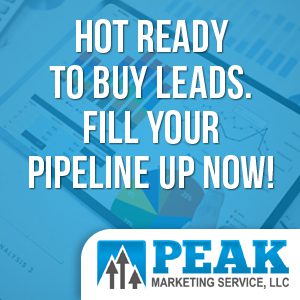 Where Can I Buy Leads for Landscaping Companies?
There are a few places where you can buy leads for landscaping companies, including:
Lead generation websites: Websites like HomeAdvisor, Angie's List, Peak Marketing Service, and Thumbtack offer lead generation services for landscaping companies. These websites allow you to create a profile and bid on projects posted by homeowners in your area.
Lead brokers: Lead brokers specialize in connecting businesses with leads. They typically have a large database of potential leads and can provide you with targeted leads based on your specific needs.
Social media: Platforms like Facebook and LinkedIn have lead generation features that allow you to target specific demographics and interests. You can create a lead generation campaign and run ads to attract potential customers.
Trade shows: Many trade shows and conventions offer opportunities to connect with potential leads in your industry. Many offer lead lists for attendees to purchase.
Paid directories: Many directories and listings sites allow companies to pay for prominent placement or enhanced listings that will help their visibility.
GET LEADS NOW
It's important to note that buying leads may not be the most effective way to grow your business. It can be costly and not all leads may be qualified or interested in your services. It's important to use a combination of methods including networking, building a strong online presence and utilizing referral marketing. Additionally, it's important to do your research before buying leads to ensure that the leads are legitimate and relevant to your business.
How Much do Landscaping Leads Cost?
Depending on the type, landscaping leads will cost between $22-$95 each.
The cost of landscaping leads can vary depending on the source and location. Typically, they can range from a few dollars to a couple of hundred dollars per lead. Factors that can influence the cost of leads include the type of service offered, the competition in the area, and the quality of the leads. Some companies may also offer bulk pricing for large numbers of leads. It's best to research and compare the costs of different lead providers to find the best value for your business.