Everything You Need to Know About Business Texting
Business text messaging, also known as business SMS, is a method of communication that allows businesses to send, receive, and even automate text messages to and from their customers. It serves as a fast, reliable, and direct way to engage customers, providing a platform for a variety of communication needs, such as sending appointment reminders, providing customer support, sharing promotions, and much more.
In a world where the majority of consumers own a mobile phone, business text messaging allows companies to connect with their customers in a way that's immediate and personal. It's particularly effective because text messages have a very high open rate compared to other forms of communication.
Text Messaging Software  
While similar to regular text messaging in its format and immediacy, business texting often employs a text messaging software or platform that allows for managing a large volume of messages, automating responses, and ensuring compliance with regulations such as opt-in and opt-out options for customers. This software can often be integrated with other CRM and marketing systems for a holistic view of customer engagement.
It's important to note that business texting should always be used responsibly, with clear guidelines and policies to respect customer preferences and abide by regulations. This includes always obtaining consent from customers before initiating communication and providing an easy way for customers to opt out of receiving further messages.
In an age of digitization and lightning-speed communication, business texting has emerged as a potent tool for businesses to connect, communicate, and engage with their customers. Also known as SMS (Short Message Service) marketing, it allows organizations to reach out directly to their customers' inboxes, offering a highly personal and immediate touchpoint.
Our team at Peak Marketing Service put this guide together to help you explore the best ways to leverage this powerful medium to maximize its effectiveness:
1. Customer Service and Support
Business texting can be a highly effective medium for offering customer service. Unlike phone calls, which require the customer to be available at a specific moment, texting allows for asynchronous communication. Customers can read and respond at their convenience. This offers a less intrusive and more customer-friendly approach.
Questions can be answered in real time, issues can be resolved promptly, and feedback can be gathered swiftly. Besides, the casual and immediate nature of texting also tends to put customers at ease, making the whole process more personal and engaging.
2. Promotions and Deals
Texting is a great way to let your customers know about ongoing promotions, special deals, or new product launches. Given that texts have a staggering 98% open rate, you're virtually assured that your message will be seen. This can lead to a significant boost in sales. However, be wary of overuse, as this can lead to message fatigue and opt-outs. Always make sure your messages offer value to the receiver.
3. Appointment Reminders
If your business works around appointments or reservations, then texting can be the ideal way to remind customers of upcoming appointments, reducing no-shows and maintaining a smooth operation. These reminders are usually appreciated by customers and seen as a value-added service.
4. Order Updates and Notifications
Business texting can also be used to keep customers updated about their orders. Whether it's to confirm an order, provide shipping details, or notify about delivery, customers appreciate the transparency and up-to-the-minute updates that texting can provide.
5. Collecting Reviews and Feedback
Text messages can be an effective way to solicit customer feedback or reviews. People are more likely to respond to a simple text message survey than an email. Positive feedback can be used as testimonials (with the customer's permission, of course), while constructive criticism can help improve your products or services.
Best Practices for Business Texting
To maximize the effectiveness of business texting, it's crucial to follow a few best practices:
Opt-in is Essential
Customers must give their explicit permission to receive texts from your business. This can be done through an opt-in on your website, during the checkout process, or in person at your brick-and-mortar location. It's not only respectful—it's the law under the Telephone Consumer Protection Act (TCPA).
Be Personal, But Professional
Texting is a personal medium. Use this to your advantage by customizing messages with the customer's name or relevant personal details. However, remember that you're a business communicating with a customer, so maintain a level of professionalism. Avoid using too much slang or abbreviations that could confuse your message.
Timing is Key
Don't send messages at odd hours. Respect your customers' time zones and personal time. A text at 3 a.m. is likely to annoy rather than engage a customer.
Keep it Short and Sweet
Remember, it's called 'short message service' for a reason. Be succinct and to the point. Overly long messages can be off-putting.
Include a Call to Action (CTA)
Always include a clear CTA in your text. Whether it's to visit your website, check out a new product, or respond with feedback, make it clear what action the customer should take.
Business texting can be a powerful tool in your digital marketing arsenal, but like any tool, it must be used properly. By offering value and respecting your customers' preferences and personal space, you can use business texting to enhance customer engagement, streamline operations, and drive your business's growth.
Advantages of Business Text Messaging
Business texting is a highly effective communication tool that offers several distinct benefits to both businesses and their customers:
High Open Rates: Text messages have an incredibly high open rate, with 98% of all text messages being read. This rate far surpasses that of email and ensures that your message is highly likely to be seen by your audience.
Immediate and Direct: Texting is immediate, allowing businesses to connect with customers in real-time. It also offers a direct line of communication to the customer, bypassing cluttered email inboxes or the need for a customer to visit a specific website or social media page.
Increased Engagement: Customers are more likely to respond to a text message than to an email. This increases engagement rates and makes communication more effective.
Efficiency and Productivity: Texting can be automated and integrated into other business processes, which makes it efficient and reduces the time needed for communication. This can significantly boost productivity, especially for activities such as appointment reminders or order updates.
Convenience and Accessibility: Text messaging is convenient and accessible, as most people carry a mobile phone with them at all times. It does not require internet access, making it an accessible form of communication for all customers.
Personalization: Texting allows businesses to send personalized messages to their customers, which can improve customer satisfaction and loyalty.
Cost-Effective: Business texting is a cost-effective communication method. It is usually less expensive than print advertising or postal mailings, and it can often be more effective.
Improved Customer Service: By providing immediate, direct, and two-way communication, business texting can significantly enhance the customer service experience.
To effectively harness these benefits, it's crucial that businesses use texting responsibly, respect their customers' privacy, provide clear and valuable messages, and adhere to all relevant regulations.
Consent Laws For Business Texting
Consent is a crucial aspect of business texting, and it's also a legal requirement. Under laws like the Telephone Consumer Protection Act (TCPA) in the United States and the General Data Protection Regulation (GDPR) in Europe, businesses must obtain explicit consent from individuals before they can send them promotional text messages.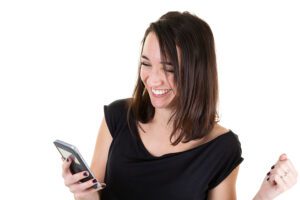 Here's how consent generally works in the context of business texting:
Opt-in Consent: Before you can start sending text messages to a customer, they need to opt in to receive these messages. This could be as simple as filling out a form on your website where they tick a box to say they agree to receive texts from your business. Alternatively, customers can also opt in by sending a specific keyword (like 'JOIN' or 'YES') in a text message to your business. The key thing here is that the customer must make an active decision to receive your texts – it can't be a default setting.
Double Opt-in Consent: Some businesses go a step further and use a 'double opt-in' system. This means that after the customer initially opts in, they receive a confirmation text where they need to confirm once again that they want to receive messages. This helps to make sure that the customer really wants to receive your texts, and it can also provide additional legal protection for your business.
Clear Opt-out Instructions: Consent isn't a one-time thing – customers need to be able to withdraw their consent at any time. So, every promotional text message you send should include clear instructions on how to opt out of future messages. Typically, this involves the customer sending a simple reply like 'STOP'. As soon as a customer opts out, you need to stop sending them promotional texts.
Respecting Consent: Getting consent isn't just about following the law – it's also about respecting your customers and building a strong relationship with them. If a customer feels like they're receiving too many texts, or they didn't realize they were opting in to receive texts, it could harm their perception of your brand. So, always be clear and transparent about what customers are opting into, and don't overload them with messages.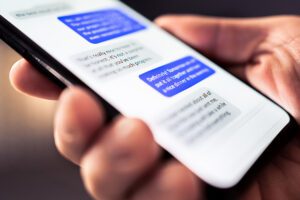 Record-keeping is also important. Businesses should retain records of opt-ins and opt-outs to prove they have complied with the law, in case of any disputes.
Remember, different jurisdictions may have slightly different rules around consent and business texting, so it's important to consult with legal counsel or a compliance expert to make sure your practices align with the laws of the countries where your customers reside.
Top Rated Business text Messaging Software
There are several excellent business text messaging software options available on the market. Below are a few of our top choices. Remember, the "best" software largely depends on your specific needs, budget, and business size.
Each of these options has its own strengths, so it's essential to consider your specific needs when choosing business text messaging software. Consider factors like cost, ease of use, customer service, integration with other tools you're using, and the specific features that are most important to your business.