5 Easy Ways to Get Roofing Leads
Generating sales leads is an essential part of running a successful roofing company, as it helps to ensure a steady flow of business. There are many different strategies and rarely tapped sources that roofing companies can use to generate sales leads, and the best approach will depend on the company's unique needs and goals. Here are some of the most effective ways to generate roofing leads for roofing companies:
Utilize online marketing: In today's digital age, it's important for roofing companies to have a strong online presence. This includes having a professional website, as well as utilizing social media and other online platforms to reach potential customers. Using search engine optimization (SEO) techniques, such as using relevant keywords and phrases on your website and in online content, can help to improve your visibility in search engine results and attract more leads.
Network with other professionals: Building relationships with other professionals in the construction industry can be a great way to generate leads. This could include networking with architects, builders, and other contractors who may be able to refer potential clients to your roofing company.
Offer incentives for referrals: Encouraging your existing customers to refer their friends and family to your company can be a powerful way to generate leads. Consider offering incentives, such as discounts or gift cards, to customers who refer business to your company.
Participate in local events: Attending local events and trade shows can help to raise awareness of your company and generate leads. This could include sponsoring events, setting up a booth, or participating in community events.
Use direct mail: Direct mail can be an effective way to reach potential customers in your target market. Consider creating targeted mail campaigns that include information about your company and its services, as well as special offers or promotions.
By implementing a combination of these strategies, roofing companies can effectively generate sales leads and grow their business. It's important to regularly review and assess the effectiveness of your lead generation efforts and make adjustments as needed.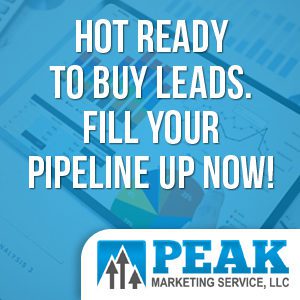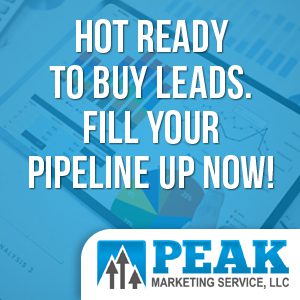 BUYING ROOFING LEADS FOR AGGREGATORS
Buying roofing leads through lead aggregators can be a useful strategy for roofing companies looking to generate more business. Here are some benefits of buying roofing leads through lead aggregators:
Time-saving: One of the major benefits of buying roofing leads is that it can save your company a significant amount of time. Instead of having to spend time and resources generating leads through marketing and networking, you can simply purchase leads that are already interested in your services. This can free up time for you to focus on other aspects of your business.
Cost-effective: Buying roofing leads can also be a cost-effective option, especially if you are just starting out or have limited marketing resources. By purchasing leads, you can reach a larger audience without having to invest as much in marketing efforts.
Targeted marketing: Lead aggregators often allow you to select specific criteria for the leads you purchase, such as location, type of roofing service needed, and budget. This means you can target your marketing efforts to the most relevant potential customers, increasing the chances of making a sale.
Quality leads: Many lead aggregators have processes in place to ensure that the leads they provide are high quality and interested in purchasing roofing services. This can help to increase the conversion rate of your sales efforts and generate a better return on investment.
While buying roofing leads through lead aggregators can be a useful strategy, it's important to do your research and choose a reputable provider to ensure that you are getting high-quality leads. It's also important to remember that buying leads is just one aspect of a successful lead generation strategy, and it should be combined with other efforts such as online marketing, networking, and local events to be most effective.