3 Easy Ways Roofing Companies Are Getting Quality Leads
Roofing companies depend on good sales leads to grow their business. In this guide, we explain three easy ways to capture the best leads for roofers.
Finding a consistent way of generating leads as a roofing company is often more difficult than it should be.
You're busy doing your job, which means it's hard to maintain consistent marketing without it taking your focus away from finishing projects.
We understand the struggle.
That's why in this post, you're going to learn 3 cost-effective ways roofing companies just like yours are filling their pipeline full of leads and clients.
Let's dive in…
The Top 3 Most Effective Ways to Generate Roofing Leads
There are lots of lead generation tips and marketing tactics for roofing companies such as yours.
However, a lot of them are not fit for their purpose and won't give you the ROI you should be getting.
After years of experience in lead generation, here's how to generate leads for your roofing company…
1. Buy Roofing Leads From Peak Marketing Service and/or their affiliates
By far the simplest and most cost-effective way of generating leads is through our pay-per-lead received service.
As a roofer, you are incredibly busy. Therefore, you don't have the time to generate clients for your business, right?
So what is the solution?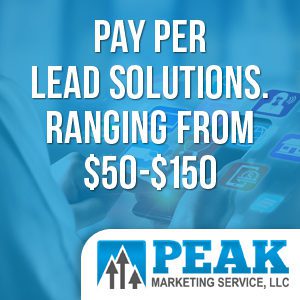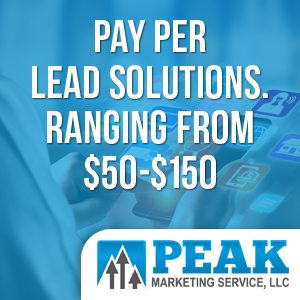 Well, at Peak Marketing Service, we specialize in generating high-quality, and qualified roofing leads for you so you don't have to.
Every lead we generate is actively looking for a new roof replacement or roof repair service, so all you have to do is close the sale.
Every month, we generated hundreds of sales leads for our roofing clients, and unlike other solutions, our leads are exclusive to only 1 to 3 roofing companies, so you won't have to compete against others on pricing.
Here's How It Works
At Peak Marketing Service, we own a wide range of internet-based assets, including review sites, niche websites, and cost comparison websites.
We then leverage these assets, along with a combination of social media and paid search, to reach qualified buyers who are actively searching for your products.
We produce the leads so you can produce the sales.
2. Directory Websites
Another way to get leads for your roofing company is through directory sites. Examples:
Angi.com
BBB.com
5Estiamtes.com
Gaf.com
Thumbtack.com
If you can get your company listed on a directory site, you will have potential clients seeing your company regularly, and offer you passive lead generation.
One downside to direct websites is the cost. Depending on the site, it can cost you anywhere between $50 to over $1000's a month just to be listed.
This is fine if it's bringing you more business than it costs. If not, you're just losing money.
Remember that you're also being listed in directory sites when you are being listed with your competitors.
So if your potential clients search the site for "Roofer", they will not only see you but all of your competitors as well.
3. Referrals
Got clients already? If so, a great way you can instantly get more clients is by asking for referrals.
For most roofing companies, referrals are their bread and butter, it's how they survive. Referrals are so powerful because it takes advantages of people's relationships…
For example…
If your friend texts you about a film, they just watched and loved, and tells you to watch it, how much more likely are you to watch that film?
You're probably 100 times more likely to watch that film, and the same principles apply to business.
If you can get your clients to refer their family, friends, and colleagues to your company, you will start closing more deals.
What Lead Generation Strategy Do We Recommend?
If you're looking for guaranteed roofing sales leads, then we recommend you consider buying leads with us, Angi, Modernize, or QuinStreet.
Why go through all the frustration of generating leads for yourself on social media when we can generate leads for you?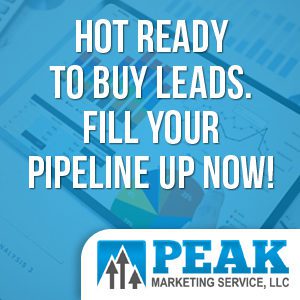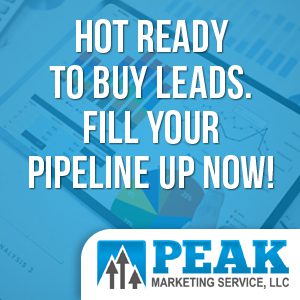 It makes so much more sense to let our lead generation experts give you pre-qualified, ready-to-buy leads for you to close.
We specialize in generating sales for roofing companies. It's that simple.
Working with us means you get to focus on what you do best, while we pass you ready-to-buy leads every month.
Although referrals and website directories can work, they can be expensive, competitive, and inconsistent.
Our pay-per-lead services are far more reliable, in fact, we guarantee they are.
Are You Ready to Start Generating Leads With Peak Marketing Service Today?
If you are ready, we can connect you with thousands of pre-qualified buyers every single month, like clockwork.
If you are sick of not knowing where your next lead is coming from, or you are becoming tired of doing all the marketing yourself, we can help.
Here's our promise to you…
While working with us, it is our aim that you will never have to worry about your lead flow or have to find leads for yourself again.
When generating leads for your company, your priority isn't who has the cheapest roofing leads.
What you really want is a good return for each dollar spent, and that's exactly what we will help you achieve.
If you feel you are ready to get started with us and let us take all of the stress of lead generation off your plate, click here to learn more about our lead generation services.
Mike Cynar
Mike Cynar is the CEO of Peak Marketing Service and holds over 20+ years of experience running SEO campaigns. He presently manages over 50 lead generation websites and collectively captures over ½ million leads per year. Peak recently earned the BBB Torch Awards for 'Business Ethics".