ORDER PEAK

SYNDICATION
Peak Syndication service is a great way to get your message seen on ABC, FOX, CBS, and NBC. Get your company message in front of thousands of readers today.
NOTE: Content MUST already be published on the web. Simply send us a link to the content that you want to be distributed, or upload it with your order (make SURE it includes a link to the website where your content resides).
This product generally starts at around $145, and is an extremely low-cost way of reaching thousands of viewers in just a few days.
Starting at $145.
WHAT IS SYNDICATION?
PEAK Syndication gives you direct access to thousands of consumers. All you need to do is submit your link to an existing blog post, or send new content, and our team guarantees that it be published on 100+ high authority news sites across the United States.
Here Are Just A Few The Media Groups:
After your content is picked up, you can proudly display the below 'AS SEEN ON' on your website.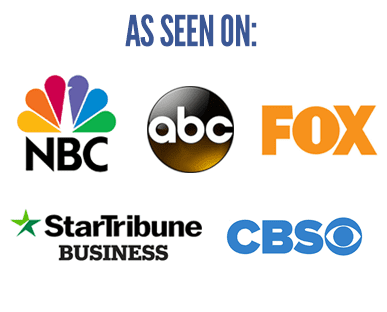 There's No Easier Way to Get Seen For Less
Getting your message in front of thousands of readers is no simple task. With PEAK Syndication services, we'll get your message seen for as little as $125.
We guarantee your content to be published and reach markets all across the US or your money back.
Original Content Distribution
Use our syndication service to distribute original (new) content and you'll be seen by an audience of thousands of viewers. We recommend that you include a clear call to action (CTA) with a link back to your site for additional referral traffic!
Existing Blogs / Content Distribution
Do you already have a great blog post that you'd like to get seen now? Instead of writing new content, you can just republish your blog's existing content. It's literally effortless and we do it all the time. It's not viewed as duplicate content, the site republishing the content can simply use the rel=canonical tag which will source the original blog at the bottom with a link.
How it Works
Step 1: Purchase the PEAKSyndication product and submit your content in the order form provided after checkout.
Step 2: We will distribute and syndicate your blog or new content to FOX, ABC, NBC, and over 100+ major news publishers across the US.
Step 3: We give you a 100% transparent, white-label report of all the published URLs. You'll know exactly where your content went!
Important Information
Content can NOT be promotional. It must be informational.
Links will be a mix of do-follow and no-follow.
There's no required word count.
Reminder, you MUST either send us a link to the content you want to be distributed or you can upload it with your order (if you use this option, be sure and include a link to your website).
Niches We Will NOT Submit For Syndication
Gambling & casino
Explosives
Guns
Weapons
Alcohol
Illicit Drugs
Tobacco & Vaping
Cosmetic procedures & body modification
Marijuana related topics including dispensaries, glassware, THC, etc.
Dating
Adult & Sex
Sexual Reproductive Health
Politics and International news
Cryptocurrency
Inappropriate Use of Language
Kratom
NOTICE: Given the current global pandemic, we cannot syndicate any blogs regarding COVID-19 by request of our publishing partners.
FAQ's
Can the content be promotional?
No, the content has to be an informational blog post.
Do all publishers use the rel=canonical tag?
We encourage all of our publishers to use the original link as the rel=canonical tag, however, we cannot guarantee that all publishers will.
Won't This Be Considered as Duplicate Content?
Great question! Content republishing is actually very common in the publishing industry but is often a misunderstood concept within SEO.
There are many great reasons to republish or syndicate content, as long as you handle the SEO part of it correctly as recommended by Google (which WE DO for you).
What is the Delivery Time?
In most cases expect to see the delivery within two weeks.